INTRAWEB DISPLAY PDF
Hi, I have a troubles with intraweb since version I display have some IWImage in a web form and I load the pictures .GIF) from files with. After it tabulates the votes it will generate a small chart displaying the results. The demo source can be downloaded by downloading IntraWeb or later at. Can someone explain what StyleRenderOptions->Use Display does? . eb articles. 0 followers.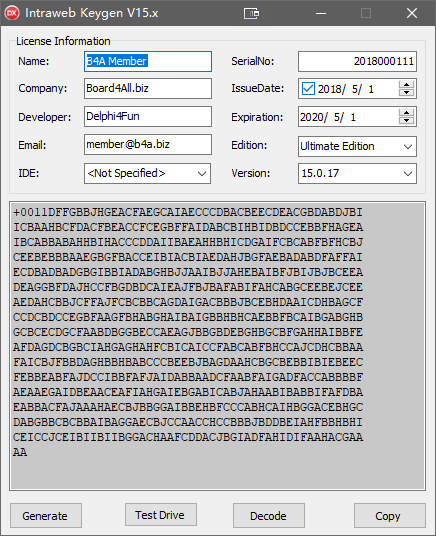 | | |
| --- | --- |
| Author: | Dajin Daihn |
| Country: | Senegal |
| Language: | English (Spanish) |
| Genre: | Automotive |
| Published (Last): | 23 January 2007 |
| Pages: | 479 |
| PDF File Size: | 12.88 Mb |
| ePub File Size: | 15.56 Mb |
| ISBN: | 271-3-64958-495-3 |
| Downloads: | 60796 |
| Price: | Free* [*Free Regsitration Required] |
| Uploader: | Akinogore |
What I'm doing wrong? Best Regards Francisco Alvarado. See related articles to this posting. The problem is with the file assignment. ApplicationPath when the control is expecting a URL. ApplicationURL instead, and drop the wwwroot. Refreshing the control should display the new contents. I can double click the file and it opens in the browser. Make your folder structure like this: How can I check if the file exists? URI always returns false.
The button your are using fires the OnClick event Asynchronously. You have to force the control to update in another manner.
Invalidate to the end of your code. In theory, that should force it to redraw. That function expects a windows-style file name UNC. Daniel Fields on Nov 14, 9: Any more ideas of how to make this work? Show me the code you are working with. Try using a label instead of the URL Window this instead. Size the label large enough to show the file contents. In your event set IWLabel1.
Also are you using IW10? I'm using D and IW We need to isolate the issue. Let's see if that works. If so, we have an issue with the file path.
I think the problem is with the URL formation. TObject ; begin IWLabel2. Did you see my post right after that one? Did you do all of the setup for CG Dev Tools?
You have to synch folders, set the doctype and style settings. That could be the issue. Trust me, I had tried almost all the variables, changed folders, synchronized the wwwroot folder and pulled off my hair.
Do you have an example?
I have not used either of those. Here is a simple test case that I used to test what I sent.
See if that works. I reposted that file to contain the wwwroot folder. Thank you for all your work but I'm missing something as I can't make it work.
I cannot think of anything else relative to IW that we can try. Did it give you that message on my sample project too? That was just an HTML file. I would try deploying the compiled version to a new environment to see if it is your development environment.
It could also be that you need to add the MIME type to your machine. You can search the forum for MIME. I know someone had that as a solution recently. Yes, inyraweb same message. I'll keep searching and thank you for your help!
OT: how to show a pdf with Intraweb ? – NexusDB Newsgroups
Which IW version are you using? Delphi and IW Thank you Daniel for your support! I'm glad to hear that it got solved! Kindly help me out. All suggestions are most welcome. This snap shot could be in any format like bitmap. Later i will convert this into JPEG format. All the work has to be done in the memory without b Load html and display a html file On my code behind, how do load an html file and after parsing it, display it to the user? I do not want to display the html file in a box on the page.
I just want the user to see the html as if they load it up directly full screen you have to use System.
Customizing the display of errors
Delphi XE2 and Intraweb When i use th Displaying html code in a text file as html in a browser We have a. The problem is that we need to be able to display formatted text in each line. For example, the following line in the. I read an in an html file as a string, modify some placeholders for data and then display it to the user. When they print it I want to have a footer like a Microsoft Word document, that will appear at the bottom of the page regardless of whether the full page is used or not.
Right now I just have the footer info at the bottom of the file, but when I print pages that are only half filled, the footer info shows in the middle of the page, not at the bottom.
This is correct for the way I've set it up, but not what I want. I want to have that footer data appear at the bottom of the page regar I am looking for a module that will let me upload and display an HTML file in the module. My idea is that I want to display articles that where written elsewhere rather than edit them online. That way I can display the same information in several places. Also I will just use the Announcements module to have a blurb about the article and link to it.
IFrame will sort of work, but it does not allow you to select from a list of local uploded files and yo But until now i don't find it. Or i must define myself a parse html class to do it? Because i have problems posting in HTML or with attachments I have put the description in the following location. Can you please look at it: Double double display display problem problem No, I'm serious.
I'm setting up Mozz 1. And of course, it hung as I was trying to reset my profile, and now I can't even get it started. I suspect it was one of the extensions that I installed, but I'm not sure which one. I know that on my work machine Tabbed Browswer Prefs made it act a bit wh Problem in Receiving the files that had been attached with my web form using a html file input Hello there!
First of all i have added a master page and made this form as a content page! Actaully the view state of this html file input is not maintaining when the page is posted back!. Before adding the master page it worked fine!
Could you please tell me a solution! Regards,Vinz"Code, Beer and Music" that's my way of being a programmer!